PVC wallpaper for WPC (Wood-Plastic Composite) is a type of wallpaper that is specifically designed to be used in conjunction with WPC panels or surfaces. When comparing PVC wallpaper for WPC to other types of wallpaper in terms of durability and maintenance, here are some key factors to consider:
Durability:
Moisture Resistance: PVC wallpaper for WPC tends to be more resistant to moisture compared to traditional paper-based wallpapers. This is particularly beneficial in areas with high humidity, such as bathrooms or kitchens, as it is less prone to warping, peeling, or mold growth.
Scratch Resistance: PVC wallpapers generally have better scratch resistance than traditional paper wallpapers. This makes them more durable and less prone to visible damage from everyday wear and tear.
Impact Resistance: PVC wallpaper for WPC is typically more impact-resistant than standard wallpapers. It can withstand minor bumps or knocks without easily tearing or denting.
Maintenance:
Cleanability: PVC wallpaper for WPC is generally easier to clean compared to traditional wallpapers. Its smooth, non-porous surface allows for easier removal of dirt, stains, or smudges. A mild detergent and a soft cloth are usually sufficient for regular cleaning.
Stain Resistance: PVC wallpapers have good stain resistance due to their non-absorbent properties. They are less likely to absorb liquid spills or stains, making them easier to maintain and clean.
Longevity: PVC wallpaper for WPC is known for its longevity. It can retain its original appearance for a longer time compared to some other wallpaper materials. However, the actual lifespan depends on various factors such as environmental conditions and the quality of installation.
It's important to note that while
PVC wallpaper for WPC
offers advantages in terms of durability and maintenance, it may have a different aesthetic compared to other types of wallpaper. It is always recommended to consult the manufacturer or supplier for specific information about the particular product you are considering, as different brands or variations of PVC wallpaper may have slightly different characteristics.
Product
Wrapping Clear Holographic Lamination Pattern Hot Stamping Foil PVC Film B036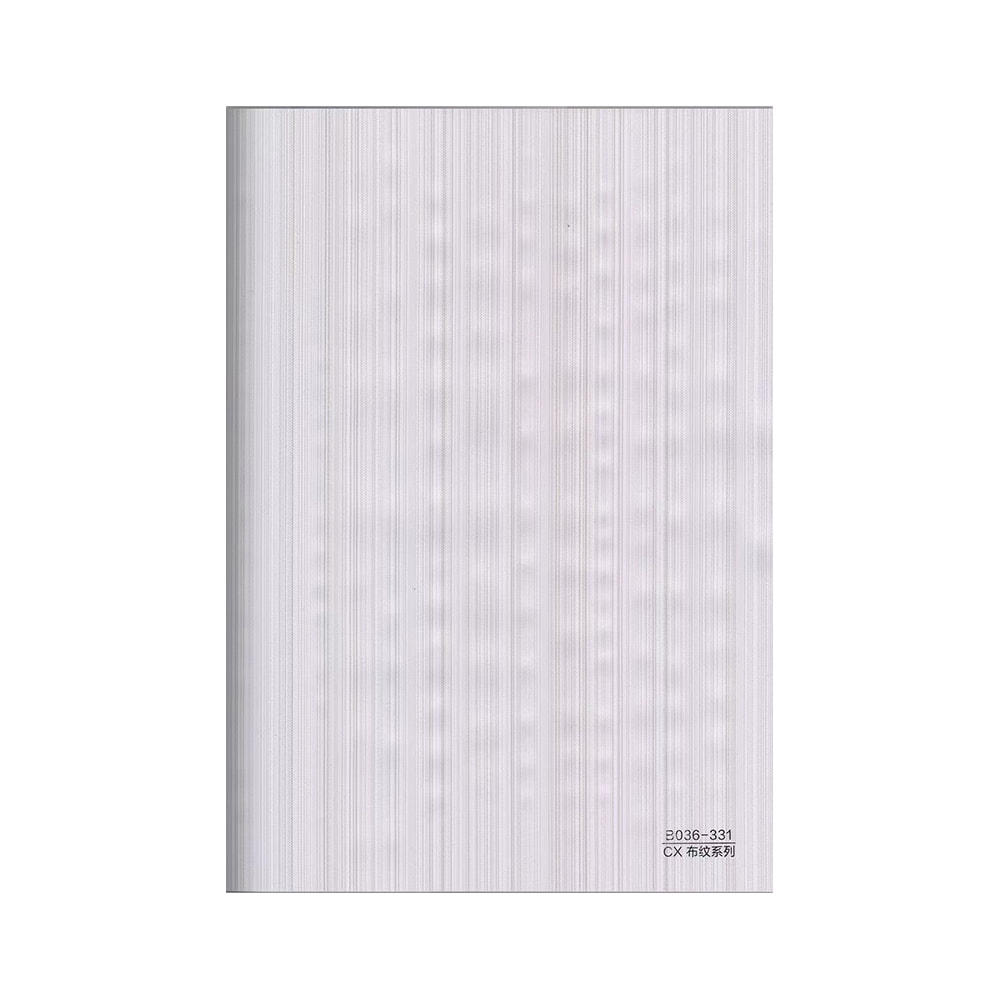 Product Description
Our company is mainly engaged in hot stamping foil and pvc lamination film production,which is use for pvc panel,pvc door panel,pvc marble sheet,pvc foam board WPC,MDF and so on. As the pioneer of the building decoration industry,We have good quality and many years of export experience.



Feature:
Not Self-Adhesive
Product Name:
PVC FILM FOR PVC PANEL
Usage:
PVC ceiling ,PVC panel.
Color:
More than 5000 designs
Port:
Shanghai or Ningbo